Why the Ticketmaster monopoly is still thriving
Ticketmaster is the number one best ticket seller for concerts, sports games, and other events for fans globally. They are supposed to make purchasing tickets fun, easy, and stress-free. However, that has not been the case for a long time. 
Ticketmaster is being accused of being a monopoly, of having  "the exclusive possession or control of the supply of or trade in a commodity or service." Protests against the company multiplied exponentially in the wake of the way the company handled Taylor Swift's New Eras Tour pre and general sale on November 15th. The controversy should have proved the final nail in the coffin for Ticketmaster.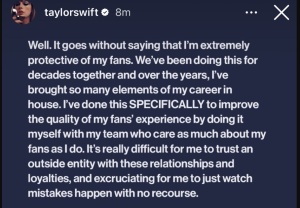 One fandom you don't mess with is the Swifities. As of late 2019, Live Nation, while partnered with Ticketmaster, was investigated and proven to be violating provisions made by concert venues for a number of years. However more problems with the two companies arrived after millions of fans signed up for presale for Taylor Swift's new upcoming tour. Over three million people were present in the presale, when only thousands should've been. The idea of Ticketmaster and Live Nation being monopolies sprung from them using their large platform in order to raise concert ticket prices and manipulate their users due to their popularity. 
After blaming high demand from Taylor Swift fans, the company released a brief statement saying, "The biggest venues and artists turn to us because we have the leading ticketing technology in the world – that doesn't mean it's perfect… we're always working to improve the ticket buying experience. Especially for high demand on sales, which continue to test new limits." 
Even after their apology and message to users, Ticketmaster and Live Nation seem to be ignoring concerns. On February 25th, the companies upset Beyonce stans with the service fees for her tickets being over five hundred dollars per ticket. Despite fan's efforts, this did not affect Ticketmaster as they continued to sell out the artist's upcoming, sold out tour. Nevertheless, some users are worried that this will fuel Ticketmaster in their efforts of manipulating their fans with prices, fees, presale codes, etc. They worry that if fans keep feeding into the problem, then it will never be resolved. 
Along with Beyonce and Taylor Swift, the company has managed to anger fandoms from BTS stans to Harry Styles die-hard supporters. Ticketmaster has continuously frustrated fans and raised the already extremely high ticket prices for concerts and sports events. The titles of a monopoly for Live Nation and Ticketmaster is not far-fetched, but rather proven and supported by past and present actions by both companies. 
Some artists are giving back to their supporters to placate their fans. In mid March, "Ticketmaster issued a partial refund to "The Cure" ticket holders after charging 'unduly high' service fees." Front man of the band, Robert Smith was actually the reason the refund was even possible.
1 OF 2: AFTER FURTHER CONVERSATION, TICKETMASTER HAVE AGREED WITH US THAT MANY OF THE FEES BEING CHARGED ARE UNDULY HIGH, AND AS A GESTURE OF GOODWILL HAVE OFFERED A $10 PER TICKET REFUND TO ALL VERIFIED FAN ACCOUNTS FOR LOWEST TICKET PRICE ('LTP') TRANSACTIONS…

— ROBERT SMITH (@RobertSmith) March 16, 2023
He supported his fans through their claims and reached out to Ticketmaster personally. The British band has planned to keep ticket prices the same in North America as they were on their other tours; concert tickets sold at as little as twenty dollars with five and ten dollar refunds.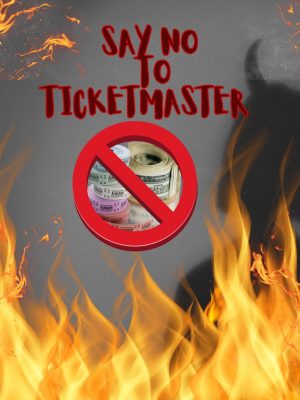 Although the shady practices and actions of Ticketmaster are currently being tested in court with Congress, their status as the "number one ticket-seller" doesn't seem to be ending anytime soon. Fans rarely have any other choices because almost all music events are powered and verified through Ticketmaster and its partners. It leaves fans, including myself, feeling hopeless and forced to use the company when looking to buy concert tickets.
The company doesn't take pride in their practice or their services, but rather cares more about how much money they make. I truly believe that Ticketmaster is a monopoly and that second chances are beyond overdue; Ticketmaster needs to be stopped.