Jaeden Cassell battles adversity on and off the track
Being one of the best at anything seems great, but with that kind of status comes trials and tribulations.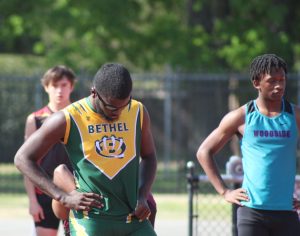 Senior track athlete Jaeden Cassel is a very humble kid and the kind of person that stays to himself, but has a strong passion and desire to be great at track. He is considered one of the fastest track athletes in our district and even the state by his teammates and coaches, but this season has not always been easy for him. 
Going into the indoor track season, many had high expectations for Jaeden. Projected as one of the best runners in the district, Jaeden feels like he is tackling a big burden. His parents were former track athletes, who ran with his coach. 
"I run because of my dad," Jaeden reflected. "He is really my biggest inspiration. When I was little, he would bring me to track meets and they looked so fun."
Jaeden does not just want to be the best, but to bring out the best in his teammates and be a leader for them. 
"My goals were to become a 400 meter regional champ, 200 meter champ, 100 state champ," Jaeden added. "[I] just [want to] become a better leader to my teammates by leading by example during practice."
Though he has some leadership qualities, Jaeden is a stay-to-himself kind of person. He didn't start the season exactly how he planned because of an injury.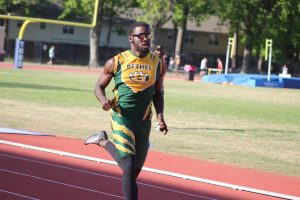 "He typically keeps to himself, in the beginning of the season," Coach Gaines stated. "He didn't always warm-up with the team and would be late to practice…" 
As the season progressed, Jaeden turned that around and was able to be a team player and cheered his teammates on and supported them like the leader he hoped to be. 
As a highschool student athlete, Jaeden is going through a lot, especially since he is classified as one of the best. That struggle can weigh down one's mentality, one's confidence and work ethic. 
"He relies on natural talent," Coach Gaines shared, implying the sky's the limit if he were to put in more work. 
"It's hard to keep up with him," his teammate Kris Stephens stated. "He's the leader of the pack, everytime we run we try to keep up with him…" 
At the end of the indoor track season, Jaeden suffered an unfortunate ankle injury, which was stressful for all, including his coaches and players. 
"Mentally, it affected the way I attacked my races at first, but eventually I got that confidence back," Jaeden acknowledged. "My teammates and family pushed me to keep going through it." 
Clearly, Jaeden overcame this injury, and ended the indoor season on a high note. He ran a 49.7 in the 4×4 at the 2023 Nationals event. Jaeden is almost the head honcho for this team, setting the tone for the meets.  
"When it's time for big meets, whenever he goes hard, we go hard," Stephens remarked.
"
When it's time for big meets, whenever he goes hard, we go hard
— Kris Stephens
As a high school athlete, Jaeden aspires to get to the highest level – a Division 1 school, and he hopes to earn a scholarship so he can "go to school for free." He currently has interests in/offers from Richard Bland, Hampton University, Norfolk State University, and Virginia Commonwealth University. 
Right now, this dream seems within reach for him. It is the middle of the outdoor season, and Jaeden is currently ranked #1 in Class 5 in the state of Virginia for the 100m, 200m, and 400m races.  The whole Bethel community waits with anticipation to see how far Jaeden can take his talent.