Frank Ocean fizzled out at Coachella. Does he deserve all the social media hate?
Late in the cold desert of Indio, California, stimulated and crazed fans prepare for the long-awaited performance of the headliner, Frank Ocean on the final night of the first weekend of Coachella. It's cold, and fans have been waiting for over an hour for the singer to make his appearance, some even deciding to leave.
If you've heard or read anything about the iconic music festival, Coachella this past week, it most likely pertained to Frank Ocean and his performance Sunday night– or lack-thereof. Frank Ocean started his set extremely late due last-minute set changes, which he made just a mere hour before his designated performance time. His set was so unorganized that Coachella couldn't even stream his set on Youtube, which they do for every single performance usually. Fans across the world were disappointed and began placing the blame on Youtube and even the festival, itself. Most fans, including myself, were just excited to see one of their favorite artists come back for the first time in 6 years.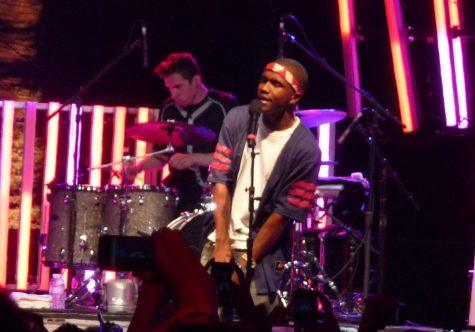 Frank Ocean is an amazing R&B artist who has touched the hearts and triggered the tears of millions of his fans globally. His intricate and relatable lyrics when paired with his cadence and voice are the perfect recipe for what should have been an incredible Coachella set. With only two albums on streaming services, Frank Ocean has over 25 million monthly listeners on Spotify, and his popularity continues to grow. He has won multiple awards, from Grammys to Soul Train, even earning accolades from GQ and BBC. His first studio album, Channel Orange, premiered on July 10, 2012 and received an astronomically high-ranking on Pitchfork at a whopping 9.5/10. Even before his first album, he earned a following through joining the rap group/brand known as "Odd Future" in 2010, along with a mixtape titled Nostalgia, Ultra in 2011. His most recent album, Blonde was released on August 20, 2016 and debuted number one on the 'Billboard 200 chart,' and it became the third best selling album of 2016. 
In spite of his accolades, Frank Ocean is now facing fan backlash after dropping out of weekend two of Coachella due to an alleged ankle injury. Since he was the biggest headliner of this year's lineup, many fans are frustrated. As someone who has been a huge Frank Ocean fan since his debut album, I was happy to see him after so many years of being absent from the music industry. However, I was at home in bed, watching the festival for free via social media, and I can imagine how disappointing it would've been for those who spent money, time, and effort to attend. People's frustrations towards Frank Ocean, his team, and the festival Coachella itself are understandable. They were guaranteed great performances by their favorite artists, and it was made clear by several of his fans and viewers of his show that it was not that.
From posts, we can now start to see what went wrong. Sources indicate Frank Ocean changed the entire plan and idea of the set an hour before his show time. He reportedly provided no warning, claiming "he wouldn't perform unless these changes were made." If these changes benefited the crowds or him in anyway, they would be forgivable, but instead numerous people said they could barely see Frank throughout his set. Apparently, he took random and unnecessarily long pauses in between songs, changed a lot of his lyrics, and changed a lot of his songs into remixes that people could dance to rather than sing. There's no doubt that there were flaws in Frank Ocean's performance and how he handled it for both weekend one and two. 
These problems stem from Ocean's recent past. He has had a very hard time performing since tragedy struck his personal life. His muse, best friend, confidant, and brother, Ryan Breaux died in the height of quarantine on August 2, 2020. Frank obviously took this extremely hard, as his brother was featured in numerous touching and meaningful portions of his songs from his acclaimed album, Blonde. Near the beginning of his Coachella set, he even cited his brother as the reason he was making his "comeback" here at one of the biggest and most iconic music festivals in the world. "My brother and I, we came to this festival a lot […] I know he would've been so excited to be here with all of us" Ocean stated before he got into his full set. Fans could hear the grief and struggle as he talked about his brother Ryan. Timid and mellow, he looked almost like a child on stage. He cared so deeply about his brother and attending Coachella was a dream of theirs. Frank was actually meant to headline in 2020, but Covid had changed the plans of the festival to be postponed until the pandemic slowed down or ended. His brother would've seen him perform just like they had always dreamed, but instead he had to miss his biggest performance yet.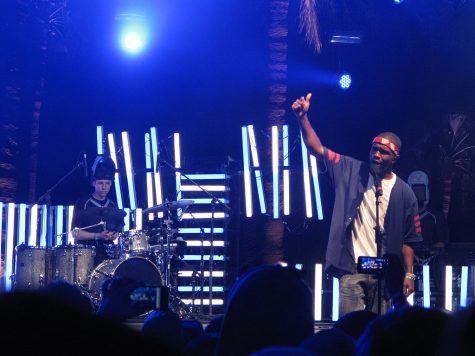 People who attended Coachella as fans of Frank Ocean have the right to be upset and frustrated about this entire situation. If Frank wasn't ready to perform to the public, let alone a huge music festival like Coachella, he didn't need to: his fans would have understood as we have for the last few years. The pressure on him was immense– being one of the world's favorite artists, but not having released music in years. People had stuck by him all this time in the dark, and he never wanted to disappoint. It is fair to hold him accountable in this situation; however, I also urge sympathy. His brother passed away, someone who heard his music and ideas first before anyone. He trusted and cared about Ryan more than anyone, so his being gone did not just take a toll on him personally, but also creatively. If people look at it from his perspective a little more, they might soften their responses. 
Frank Ocean's artistry over the years has brought great joy, sadness, and hope for his fans across the globe. His music has such a way of resonating with any type of demographic. His fans range from middle schoolers struggling in their friend group to helping actor Brad Pitt going through a divorce with his long-term wife and actress, Angelina Jolie. Several artists such as Justin Bieber, Sza, Lorde, Tyler the Creator, and numerous other celebrities were seen watching and posting about attending the festival to see Frank Ocean back in action. Frank Ocean has done enough in his career both solo and in "Odd Future" to prove that he is professional and extremely talented musically and sonically. He does not need a Coachella headlining performance to prove that further.