A work in progress: students weigh in on HCS's Academy model
For the past few years, all BHS students have been members of an academy, a program requiring them to take specialized, career pathway courses. For many students, the academy experience has been mixed. The vision behind the academies is ambitious, but is it being lost in translation? 
When HCS adopted the innovative academy model, the goal of the district was to provide students with real world opportunities they would not usually have access to in a regular school environment. According to HCS, these experiences will help " smooth [students'] transition from high school to a post secondary college or career field." At BHS, students choose between 4 main academies: the Academy of Law and Public Safety (ALPS), the Governor's Health Sciences Academy (GHSA), the Academy of Media Arts and Design (MAD), and the Academy of Transportation, Analytics, Information and Logistics (TRAIL).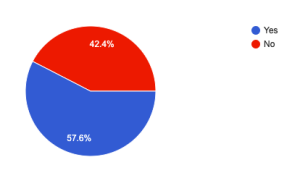 Over the past month, we polled BHS students to find out how they see the academy model. Of the students who responded, 58% felt being in an academy had given them at least one real world experience that would help them develop skills for their future careers. 42%, a significant minority, indicated they had not participated in any helpful real world experiences through their academy. 
Clearly, some students are buying into the academy model. "My academy does exactly what it strives to do," said Kaden Payne, a student with TRAIL. "We get to use cool technology and have lots of fun doing it." Another student (who wished to remain anonymous) echoed these feelings, saying,"I like the hands-on activities that we get to do…Some things may be challenging, but it's worth the challenge."
"
My academy does exactly what it strives to do.
— Kaden Payne
However, some students just wish BHS could return to a regular educational model.  Jillian Ray, a new transfer student in ALPS, indicated, "The academy program seems pointless and unnecessary." She added, "The teen side is lacking." A junior with MAD agreed, remarking the academy courses are "Just classes, and once in a blue moon an opportunity to try something. It's fairly neutral to me."
When asked what could improve the academy approach, most students agreed they want more real-world experiences. One GHSA student explained, the classes do "well in showing us how to [do] things we should be aware of like…how to give CPR and many more, but I also wish we could go to hospitals and see what it would be like to work in that setting." 
In their critiques, students also cited lack of access to reliable, up-to-date technology as a source of frustration.  Marley Holcomb, a student with MAD, shared, "Some of the systems could use some work (computers breaking, systems not responding, etc.)." It is true many of the most up-to-date design apps and software are not compatible with students' Google Chromebooks. 
The Academies offer good ways of introducing students into the real world, but a large number of students believe more could be done. This could be giving students more hands-on experience, field-trips, and better up to date equipment. The academies could also offer opportunities to listen to students and even give them the opportunity to have more control over aspects of their academies. The HCS academies might be a work in progress, but they are a good and essential resource for students.