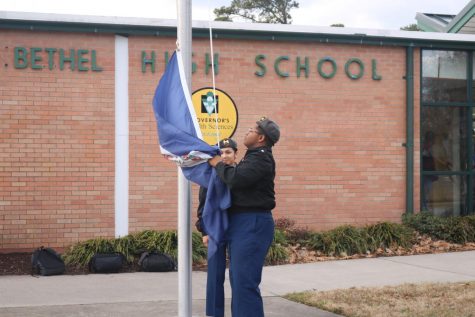 Brianna Oglesby, Staff Reporter
January 11, 2019 • No Comments
"Rules are absolute and must never be broken." That type of thinking is only seen through the eyes of someone looking in black and white, but the world is gray. Let's remember...
Kelvin Mccaffity Jr., Staff Reporter
January 11, 2019 • No Comments
In today's age, people have forgotten something that is important in representing American history, and that is the American flag and the Pledge of Allegiance. The...
Tuesday, February 12

Boys Varsity Basketball

Bethel High School 61 - Heritage 69

Tuesday, February 12

Girls Varsity Basketball

Bethel High School 63 - Heritage 62

Friday, February 8

Boys Varsity Basketball

Bethel High School 65 - Denbigh 56

Tuesday, February 5

Boys Varsity Basketball

Bethel High School 27 - Fort Loramie 56

Tuesday, February 5

Girls Varsity Basketball

Bethel High School 58 - Woodside 47