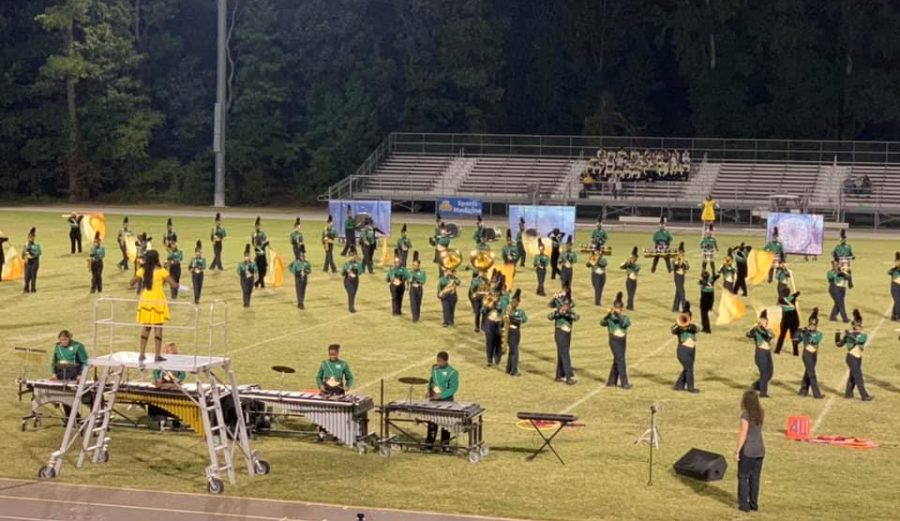 BHS Marching Band Season Ends Strong
November 15, 2019
Bethel's Mighty Marching Bruins ended its 2019 marching season with 3 first place medals. In October, the band placed 2nd in class 4A at the Spotsylvania "Knights Under the Lights" marching band competition and placed 1st in its visual effect category.
Sophomore Angela Santiago, who has played the flute for five years,  serves as a designate when the section leader is absent.  According to Angela, "Ending marching season feels pretty great knowing all the work we put it in…has really paid off."
Band instructor Jerald Lancaster says to him, the most significant accomplishment this band season was the excellent rating at the state march assessment. Lancaster has been teaching band for over 23 years. Twelve of those years have been at Bethel High School.
To prepare for competitions and other events, the band meets after school almost every day for hours to perfect their sound. Such committment is often strenous, so band students like junior Zyiiea Graham, who plays the clarinet, looks forward to games and parades because they are "not as stressful as competitions."
Despite the band's notable accomplishments, band students like sophomore Madison Tidwell, who plays the french horn, expressed concern over the lack of recognition that the band receives. "We do not get as much attention as the sport may receive for an unknown reason." Yet each year, new students want to join band because of its reputation as one big family who has fun. "The traveling and friendships you experience in band are one of a kind," said junior D'ante Charity.
Before the band performs at football games the different instrument sections have rituals such as hype circles, prayer or  play music to pump them up and ease nervous jitters.
For more information about the Bethel High School Mighty Marching Bruins or to make a donation to the band program for new flags or to help with student band fees, contact Mr. Lancaster at [email protected]