Bethel Teacher of the Year 2021: Dr. Hill
Dr. Hill has won as a nominee for being Teacher of the Year at Bethel High School. Becoming Teacher of the Year is a big achievement for a teacher to win. It means that the teacher has worked really hard doing their job and that their hard work has been recognized from other teachers, students, and staff in the school building. 
Winning Teacher of the Year isn't so easy. There is a process that happens in order to win and these are the steps of how the process goes according to Dr. Hill:
Step #1: Serve with excellence by consistently giving your best to your students and school.

Step #2: Be nominated by a colleague as a candidate. (This is a completely secret process. You will not receive any information on who nominated you.)

Step #3: Receive an email notification from a designated administrator that you have been nominated. The email will detail basic information on the application process. 

 Step #4: Complete the "Teacher of the Year" application by the deadline. The application has miniature essay sections and you must request signatures from a colleague, an administrator, a student, and a parent. You must also submit the application properly formatted and within the specified page limits.

 Step #5: Wait for the school wide announcement. (You do not receive advance notification on winning.)
To become teacher of the year teachers must: Hold a current renewable Virginia teaching license, continue in an active teaching status, and be nominated as a colleague. To be nominated by a colleague you must meet the following criteria: 
Concern for each students

Ability to inspire learning in all students of all backgrounds and abilities;

Ability and willingness to work cooperatively with fellow professionals;

Willingness to devote time and energy to activities that result in improved instruction for children;

Ability to work effectively with the community;

Desire to keep abreast of current educational theories and practices; 

Ability and willingness to make contributions to the field of education; 

Ability to create and implement innovative educational practices; and 

Respected and admired by students, parents, and colleagues. 
After receiving Teacher of the Year Dr. Hill says, "When I initially found out that I had won "Teacher of the Year, I was absolutely shocked. I did not know what to say at all. I was extremely overwhelmed with emotions and I cried a little. It was one of the most surprising and validating experiences of my life." When she won she received a beautiful bouquet of flowers, some balloons, and nice thoughtful cards. She also has her name placed on the school marquee with a message of congratulations.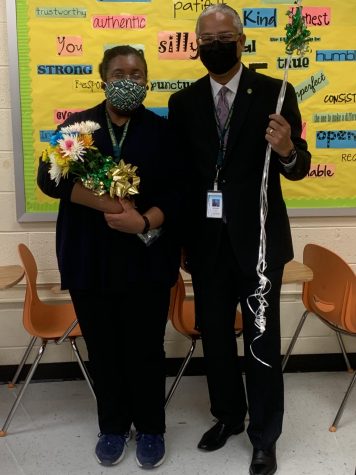 When I found out that she became Teacher of the Year it brought a big smile on my face and I cheered for her and said "Yay, she's my favorite teacher!" Other students who have her class or have interacted with her have nice things to say. "Dr. Hill is very supportive and full of interest. She asks questions and has very inspirational responses to questions she is asked," says 10th grader Shauntya Cox. "She's always positive in class," says 10th graders Issac Jeantine. "She's very energetic and encourages everyone to get things done," says 11th grader Kelis Carter. Dr. Hill celebrated by calling some friends and family and had a celebratory dinner at her favorite restaurant, Panda express.