Zooming Through Quarter One
During the first nine weeks of the 2020 school year, students have had a variety of different feelings. The first quarter "zooming" was kind of easy for some, yet difficult at the same time for others. Some students have been able to keep up learning virtually, while others are starting to fall behind in their classes. Most students say they would rather be in school physically than learn virtually. When learning virtually, learners who need more hands- on help may find themselves struggling. Many students were not sure what to expect when school started, because of the way the prior year ended.
For instance, Tahjanay Brown, a sophomore, stated, "I prefer being in school because technology can't teach us how a human being would." Some students may agree with Tahjanay because when using technology instead of being in person, they may not learn as well. Brandon Mables, a sophomore, said, "I prefer being at home because I'm able to do the work faster and just more free time." On the other hand students may agree with him because they also love "free time." Yes, you can do your work faster depending on how motivated you are, but during a normal school day you are not really supposed to have "free time." The time during school is your time to learn.
When students don't understand either the criteria or their assignments, their grades may start to decrease overall. When one is not understanding, the best thing to do is ask for help and wait until you have an answer to submit your work. When teachers do not get back in contact within 2 business days, it is best that you send another email just so that they know that you still need help and that they never responded to the email you originally sent. Don't forget to keep in mind that teachers are also busy people, especially when it comes to virtual learning 4 to 5 days a week. Everyone also has a life outside of school, even though it can be easy to forget.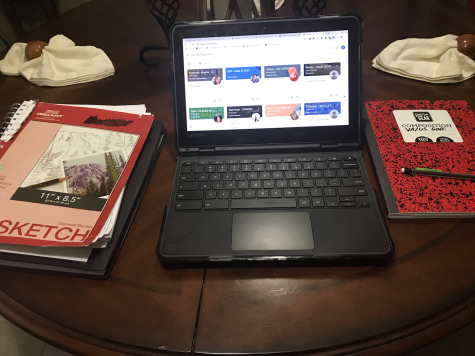 Learning virtually has some good points, like the breaks in between classes, but students do not always learn best that way. Safety is the most obvious strong point to learning virtually. The preference of one isn't always the best way to go for the entire student body. Some people tend to need more help than others. When a teacher needs to provide individual assistance to a student they will use a breakout room. The teacher can only talk to one person at a time. Students then have some free time on their hands which is not always good for them. Some students will use this time to finish their work, others may leave the class all together. 
Most students would rather go back to school in person instead of learn virtually. They want to have more hands on learning and to be able to get help immediately  when it is needed. Getting the school experience, especially the high school experience is what most teenagers look forward to. The clubs, activities and events are what keep some students motivated to do well in school. Without these motivations, morale is low for some students, but students have to remember to keep looking forward and "zooming" through this crazy year.