Pie in the Face Raises Money for Student Club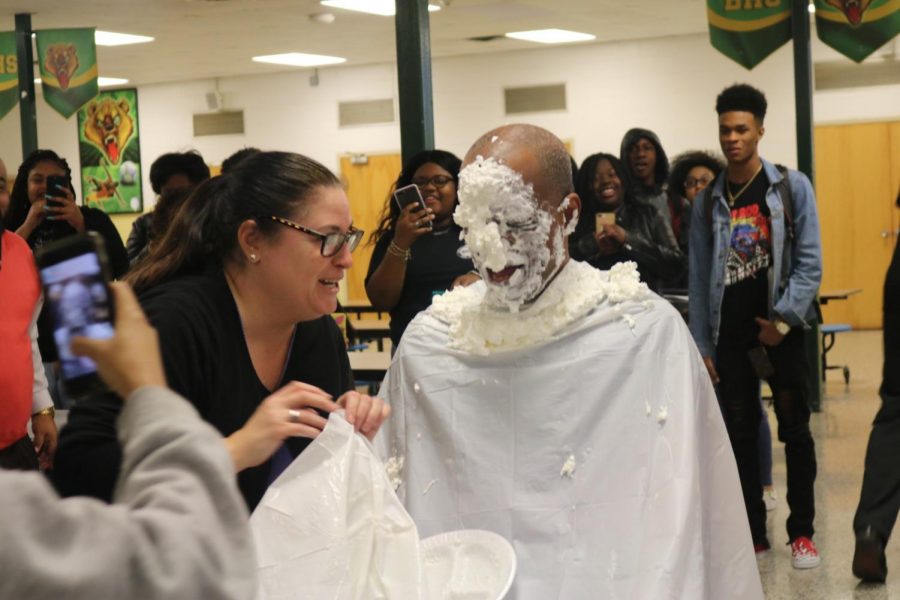 Ajaya-Kamari Barnhardt and Aya Ridha
February 20, 2019
Math teacher Daniel Milloy would do anything for school spirit and the BHS student population and so would Craig Brehon, dean of boy's discipline. To prove it, both staff members who also coach the boy's basketball team, took a pie in the face to raise money for the Youth and Government Club sponsored by librarian Holly Saunders.
Seniors Aubrianna Nugent and Anthony Dupree were the lucky students whose names were drawn in the pie throwing contest raffle. Each winner was given a chance to throw two pies at their targets. Nugent threw the pie at Coach Milloy while Dupree was chosen to aim the dessert at Coach Brehon. "I missed Coach Milloy's face just by a bit, but I got a chance to throw another pie that made up for my first throw. I can honestly say it's a high school experience I'll never forget," said Nugent.
In preparation for the contest, Dupree stated that he did push-ups to get his throwing arm ready, but was still nervous as he threw the pie at Brehon. "I was a little scared. I thought I might get suspended." But Brehon was excited to support the club and also learn that Dupree had "a nice throwing hand." Brehon further stated that the contest brought recognition to the club and boosted school spirit.
"We should do this again with more teachers and we should get more students involved," said freshman Jasmine Lilly.
According to Saunders, the pie in the face challenge was one of many fundraisers to raise money for club members to attend the Model General Assembly in Richmond from March 21st-23rd. An online fundraiser, catered lunch for teachers and concession sales after exams and during basketball games helped raise the needed 2000 thousand dollars.